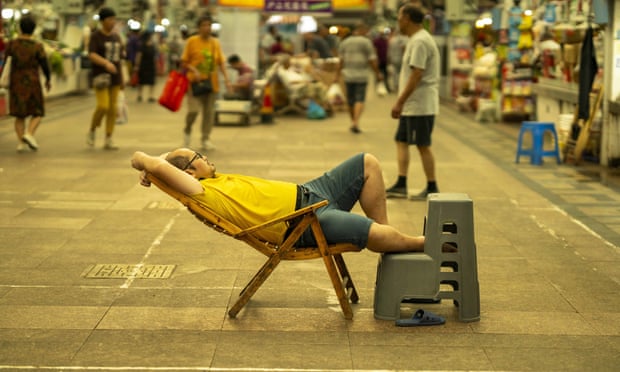 China's economic landscape has succumbed to deflationary pressures as recent official data reveals a year-on-year drop in consumer prices last month, marking the first such occurrence in over two years. This downturn can be attributed to a deceleration in domestic expenditures, casting a shadow over China's post-Covid economic revival.
According to the National Bureau of Statistics of China (NBS), the consumer price index, a primary metric for gauging inflation, experienced a 0.3% decrease in July. This follows a stagnant reading in June. Financial analysts, whose consensus projected a 0.4% year-on-year decline, were taken aback by July's figures.
This negative inflation reading for July harks back to early 2021 when the Covid-19 pandemic weakened demand and led to plummeting prices, particularly in the pork sector.
Additional data disclosed on Tuesday revealed a more precipitous drop in the country's imports and exports than anticipated. This was largely attributed to the waning global demand for Chinese merchandise.
Retail enterprises in China have been grappling with a slowdown in sales. Businesses that had amassed inventories in anticipation of a surge in demand post-pandemic restrictions now find themselves compelled to slash prices.
Intriguingly, the electric vehicle market underwent a price war triggered by Tesla's decision to lower its prices, consequently causing a dip in the cost of automobiles.
The descent in living expenses was exacerbated by diminishing food prices. China's core inflation rate, which excludes food and energy costs, climbed to +0.8% year on year, up from June's +0.4%.
In tandem with the weakened demand after the decline in commodity prices, China's manufacturing sector has already begun reducing costs for its products. The producer price inflation, tracking factory gate prices, plummeted to -4.4% in July following a 5.4% year-on-year drop in June.
Anticipations are rife that China's progression into a deflationary phase will elicit heightened calls for governmental stimulus. This comes as Beijing addresses faltering trade activity and the gradual deceleration within the nation's property domain.
Elsa Lignos, the global head of FX strategy at RBC Capital Markets, suggests, "There is an expectation that this will add pressure on policymakers to deliver stimulus, though measures so far have been cautious."
Industry analysts contend that the descent in Chinese inflation rates may alleviate inflationary pressures in Western regions. Ding Shuang, the chief economist for Greater China and North Asia at Standard Chartered Bank, posits that deflation in China "should help moderate inflation in the US and Europe."