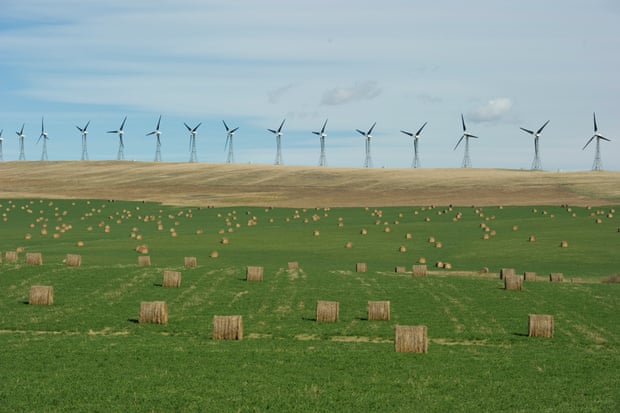 The decision made by the leading oil and gas-producing province in Canada to halt the progression of new wind and solar initiatives has left environmental organizations and economists in a state of disbelief. This move arrives at a time when the nation is grappling with an unprecedented wildfire season, an issue exacerbated by both the climate crisis and a heavy reliance on fossil fuels.
In a recent announcement, Alberta declared a six-month suspension on large-scale solar and wind projects, citing the need for a comprehensive review of construction policies, their impact on the power grid, and regulations for their eventual decommissioning.
The aftermath of this decision has seen a clash between provincial and federal ministers, laying bare the tensions between Alberta's preference for natural gas-based power generation and the broader ambitions of the governing Liberals, who aim to decarbonize electrical grids nationwide by 2035.
On a subsequent Tuesday, the federal government unveiled its preliminary strategies for transitioning to clean energy on a national scale, setting the stage for the forthcoming Clean Energy Strategy slated for 2024.
Recognizing that provinces bear responsibility for electricity infrastructure and delivery, the government emphasized its own federal jurisdiction over environmental regulations and the deployment of "strategic investments" aimed at achieving more extensive climate objectives.
Jorden Dye, the acting director of Business Renewables Centre Canada, expressed profound surprise at the abruptness of this decision. He noted, "This action has sent shockwaves through the industry, reverberating across all sectors in Alberta. It is highly unexpected for a government to take such a sweeping measure without prior consultation."
Officials at the provincial level have voiced concerns about the rapid acceleration of investment and development of renewable energy projects within Alberta, a region known for its abundant sunshine and wind resources.
Contrary to this perspective, Dye argues that the province has effectively navigated the balance between development speed and addressing residents' apprehensions for many years. He highlighted, "We have conducted regulatory evaluations for both coal bed methane production and the oil sands industry over the years—both carried out without interrupting progress." He further emphasized that this decision adversely affects even the oil and gas sector, which has become an increasingly significant player in Alberta's renewable energy market.