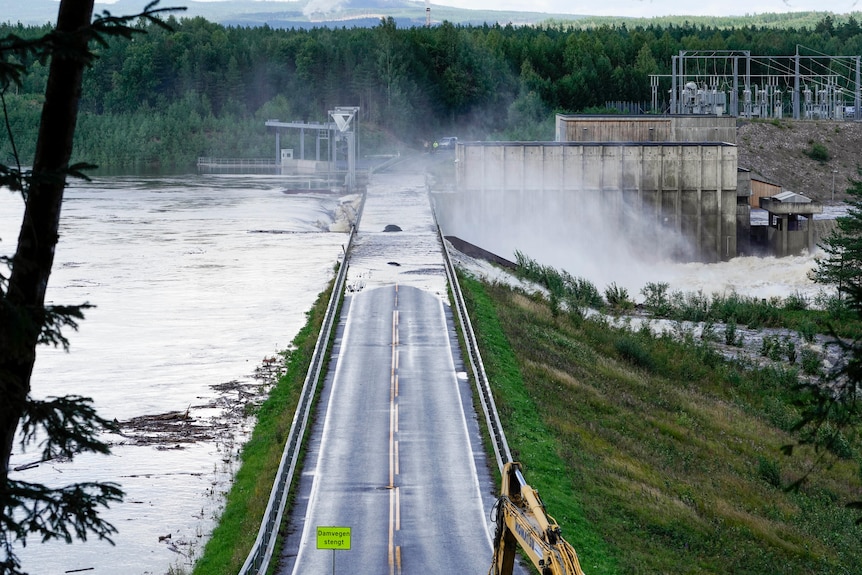 After enduring days of relentless heavy rain, triggering landslides and causing widespread flooding in the mountainous region, a dam in southern Norway has experienced a partial breach. The resulting situation has necessitated the evacuation of downstream communities.
Initially, authorities entertained the idea of strategically demolishing a portion of the dam located at the Braskereidfoss hydro-electric power plant on the Glåma River, which is not only Norway's longest but also its most voluminous river. The purpose behind this consideration was to preemptively alleviate pressure on the dam and safeguard the downstream communities from inundation.
However, this proposal was swiftly abandoned as water ultimately managed to breach the dam's structure, explained Fredrik Thomson, a spokesperson for the police. Fredrik Thomson stated, "The potential damage resulting from a controlled explosion of the concrete plant would be so extensive that it would render the effort futile."
Presently, officials are cautiously optimistic about the prospect of witnessing a gradual and consistent reduction in water levels. Fredrik Thomson added that the hope is for a controlled and even distribution of water levels.
Nonetheless, Norwegian Prime Minister Jonas Gahr Støre emphasized that the peril of flooding remains a looming threat as excess water continues its downstream course.
"This challenge is far from resolved," he cautioned. "We may be confronting the highest water levels in the past five decades or even longer."
The dam's generators ceased operations early on Wednesday due to a power grid failure, as reported by Hafslund Eco, the operator of the power plant. An automated system designed to trigger the opening of floodgates and release water also experienced a malfunction.
Consequently, swiftly rising water surged over the dam's barrier and inundated the power station itself, causing substantial damage, according to authoritative statements. The western portions of the dam were inundated by significant volumes of water, leading to the destruction of a two-lane road and protective fencing situated atop the dam.
Per Storm-Mathisen, a representative for the power station operator, conveyed to the Norwegian news agency NTB that the diversion of water seemed to be proceeding effectively.
Before the dam's failure, all individuals residing in communities adjacent to the river in the region – totaling at least 1,000 people – were successfully evacuated, authorities confirmed.
In a separate development on the same day, a Norwegian woman in her 70s tragically lost her life after accidentally falling into a stream the previous day. Despite managing to crawl to the stream's bank, the flood conditions resulted in rescue teams requiring several hours to transport her to a hospital, as explained by the police.